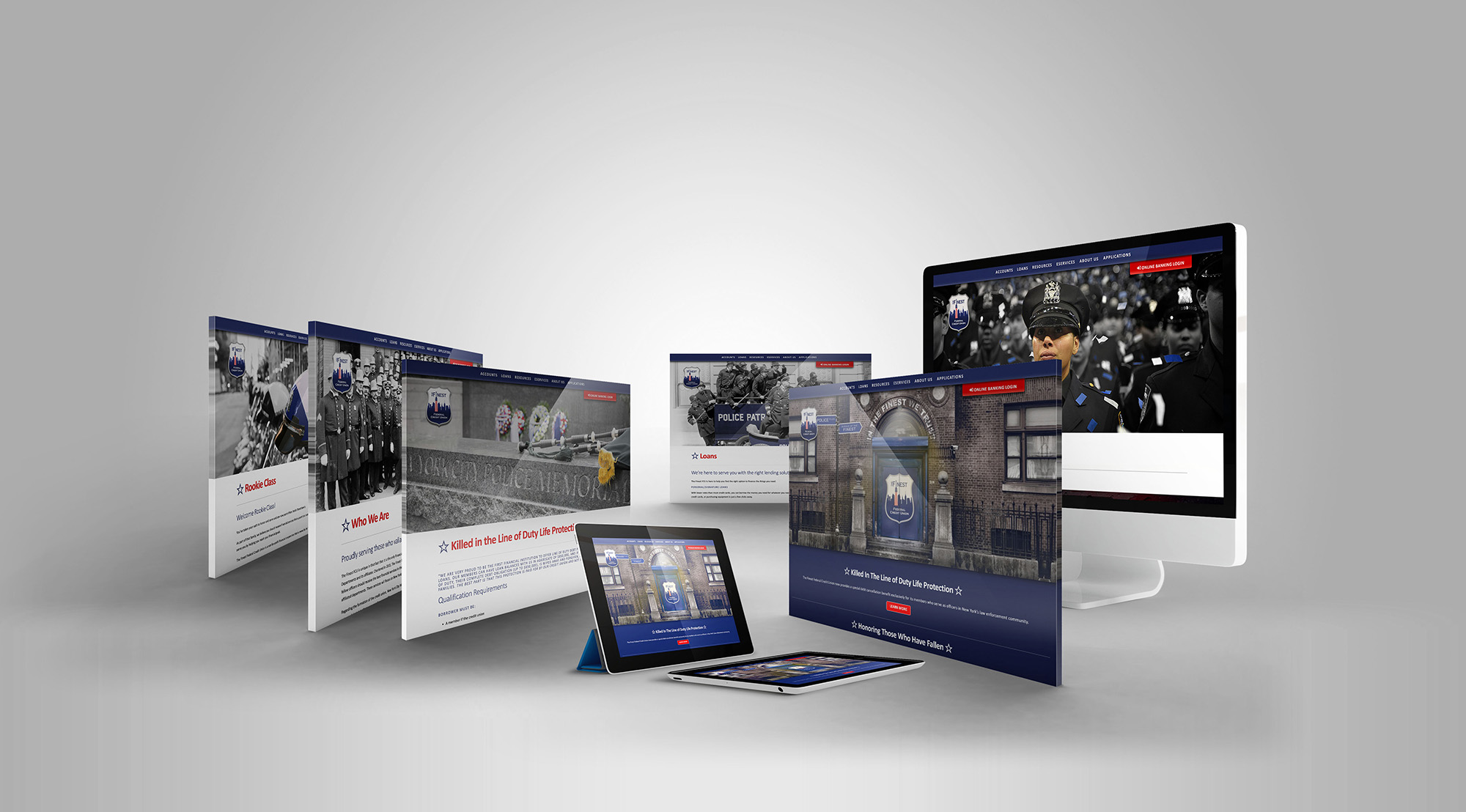 The Finest Federal Credit Union
Serving the law enforcement officers of New York State, The Finest FCU started with us in 2018 to launch their new website. Since that time they have also moved forward with a fully outsourced marketing strategy with our team to continue their astronomical growth as they ended 2018 as the #1 credit union in New York under $20 million in 12-month share growth.
Our team was hired to further their brand awareness in the community, especially focused on the New York Police Department. To date, we have planned outdoor media, magazine spreads, event promotions, and huge growth across social media platforms. Next on the agenda? On site video filming and production.
Services
Website Development with Custom Artwork and Video

Calendar Year Marketing Plan with Tactical Execution Document

Video Production

Social Media Management

Printed Collateral

Swag Design for Staff
"I'm so glad we found OMNICOMMANDER. I had searched high and low for a marketing company and nobody compares to what these guys are doing. I was already familiar with them since they built our amazing website. Their CEO Eric Isham is a smart and honest guy. I told Eric that it was a gut decision that we were going to use them for outsourced marketing because I trust his expertise and really feel I chose the best company. There have been a few times that I needed something created fairly quickly for an unexpected meeting or event and they didn't hesitate to provide it right away. If they say they are going to do something, they deliver. Since taking over our social media we have already witnessed a 130% increase in follows on just our Instagram account! They create professional videos and are completely open to all feedback so that I always get the end result that I am looking for. The one thing I can say about OMNICOMMANDER is they are totally dedicated to their partners and treat us like family. These guys always pick up the phone - there are never any games or missed promises. I strongly recommend doing business with this company - they are the best!"

Keith Stone, CEO - The Finest Federal Credit Union
Credit Union Growth with OMNICOMMANDER Marketing
Video Production
The OMNICOMMANDO team spent 2 days on location with president/CEO Keith Stone to film testimonials and informational/inspirational stories about how the credit union serves their community.
Transcript for Video

I am Officer Charlie Carrol I am a police officer here in the city of New York and just wanted to talk to you a little bit about The Finest Credit Union and a things that they do and especially the things that they did personally for me. I have been a member for a year and a half, I have my checking accounts with The Finest Credit Union I have a personal loan with the credit union, when I was going through some financial issues, they took care of everything right away. Stress Free Hassle free. It has been a great company. Keith Stone is one of the best, They are there to help you they are not there to hurt you, anything you need. The Finest Credit Union, Two Thumbs Up.
Social Media
353.6% 3 month growth on Instagram, tripled content production as well as addition of Facebook events calendar.
Printed Collateral
OMNICOMMANDER design team has created custom art for the website as well as incredibly moving images for posters and other promotional material in the neighborhood of The Finest's branches.